About The Blazer Foundation
---
The Foundation was established by Cedric W. Blazer to benefit individuals with mental or physical disabilities.
History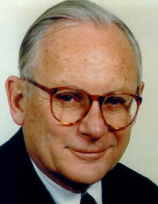 The Blazer Foundation was established by Cedric W. Blazer in 1986. Originally called the CWB Foundation, the Foundation recently changed its name to The Blazer Foundation and continues to focus on the same goals it had when Mr. Blazer established the Foundation.
Mr. Blazer dedicated his life to developing his small family-owned machine shop, Zenith Cutter Company, into the world's leading manufacturer of high quality precision industrial knives. During his ownership, the company employed over 400 people.  Under Cedric's charge and continuing today Zenith is recognized as an industry leader in providing a large array of blades used in the corrugated, granulating, recycling and landscaping industries.
While developing and expanding his successful company, Mr. Blazer also established a charitable foundation for the benefit of individuals with disabilities. For decades under his leadership, the Foundation quietly and consistently supported agencies and those they served in the Rockford, Illinois, area. Mr. Blazer often said that his goal was to use the Foundation to help others who could not help themselves. He wanted to level the playing field so all people would have the opportunity to live life to the best of their abilities.
Following Mr. Blazer's death in 2008, the Foundation became a separate charitable and philanthropic foundation. It is not affiliated with Zenith Cutter Company.
The Blazer Foundation
Through an application process (see How to Apply), The Blazer Foundation Board of Directors reviews all grant requests.
Mission Statement:
… to improve the lives of individuals with mental or physical disabilities living in Winnebago County and adjoining counties of northern Illinois. The Foundation supports local initiatives in research and development as well as programs designed to directly support those individuals with disabilities.
Agencies should request funding for programs or special needs that predominately address the Foundation's mission.
Board of Directors
The Blazer Foundation is managed by a volunteer board of seven individuals. Each individual brings unique expertise to the board. Their discussions regarding grant applications lead to the approval (or denial) of grant requests.
Schedule
The Blazer Foundation Board meets regularly. Submission of an application should be done prior to the board meeting. Please see How to Apply for an updated schedule.